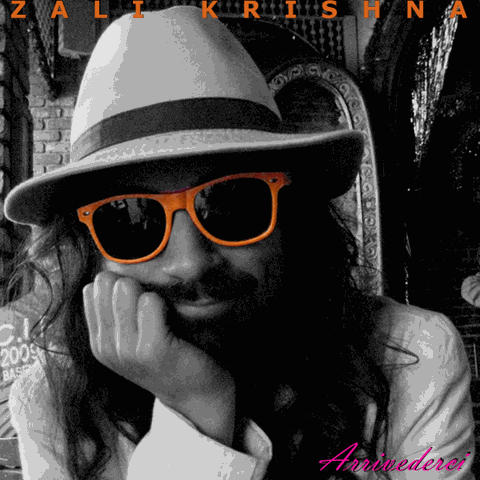 You might know Zali Krishna for his schlager crossover hit Windmills of Amsterdam, or perhaps for his acclaimed soundtrack to Miyazaki High School, but here are a few things that you might not know about Zali Krishna:
* For many years Krishna was a professional golf coach to the likes of David Niven and Jack Palance.
* In his spare time he buys up patents for some of the key inventions of the twentieth century. Amongst his collection are the Corby Trouser Press and the IBM 3340, better known as The Winchester hard disk unit.
* His first job in the music industry was as a page turner to the legendary Acker Bilk. Bilk described Krishna as "indispensible" and "a good lad".
I have known Krishna for most of the sixty-five years of his illustrious career and I am willing here and now to put my hand on my heart and swear that it is the truth, the whole truth and nothing but the truth when I tell you that Arrivederci is the finest thing that Krishna has ever recorded. You might say to me, "hey, are you forgetting about the classic Manchurian Manstopper album of 1963?" And I would say to you that Manchurian Manstopper is indeed a fine album but there is nothing on that masterpiece that achieves the solid gold perfection of every cut on Arrivederci.
The opening number was originally commissioned for a pantomime of the same name which ran for fourteen whole months at Bournemouth Playhouse. The hit single Benny Gesserit (Are You Geddin' It?) was chosen as track of the month in the Official Suzuki Q Chord Users Gazette. And many of you will remember Splatterlight from the scandi-drama (Klyvning Ljus) that achieved seven nominations at the Bodil Awards.~
And the list goes on. There is not a track on this album with a pedigree any less prestiguous than the three I have named.
You'd better believe it!
So before I sign off and leave you to enjoy the show, let me say just how much of a privilege it was to be asked to write this little appetizer for the Arrivederci album. Those of you who have never heard it before are in for a genuine treat. I envy you, and if they ever invent a machine that can selectively wipe the human brain without any terrifying side effects, I shall be first in the line to wipe my memory of Arrivederci over and over again so that I can savour it for the first time.
Over and out!
Solomon Kirchner
(recorded 4th to 26th January 2014 by Zali Krishna in Hoxton)